Skip to content

Natural beech 01

Honey 02

Rustical 06

Milky walnut 07

Walnut 04

Cognac 05

Dark walnut 08

Wenge 09

Black stain 10

White washed 03

Antique white 29

Antique oil 15

Yellow stain 13

Red stain 14

Green stain 12

Grey stain 11

White 16

Light green 21

Dark green 22

Burgundy 23

Light blue 19

Dark blue 20

Light grey 17

Dark grey 18

Black 24

Bleached oak 26

Natural oak 25

Milky oak 27

Wenge oak 160

Walnut oak 166

Antique oil oak 37

White oak 35
Black oak 36

Lars 27 - fabric

Lars 59 - fabric

Lars 73 - fabric

Lars 75 - fabric

Lars 77 - fabric

Lars 81 - fabric

Lars 88 - fabric

Lars 89 - fabric

Lars 92 - fabric

Lars 98 - fabric

Lars 99 - fabric

Lars 100 - fabric
Vintage 200 Natural - eco-leather

Vintage 215 Cognac - eco-leather

Vintage 805 Dark Brown - eco-leather

Vintage 812 Dark Chocolate - eco-leather

Vintage 505 Middle Blue - eco-leather

Vintage 100 Black - eco-leather

Dolaro 3 - eco-leather

Dolaro 9 - eco-leather

Dolaro 13 - eco-leather

Dolaro 10 - eco-leather

Dolaro 17 - eco-leather

Dolaro 18 - eco-leather

Dolaro 19 - eco-leather

Dolaro 12 - eco-leather

Dolaro 14 - eco-leather

Dolaro 15 - eco-leather

Point 13 - fabric

Point 38 - fabric

Point 39 - fabric

Point 48 - fabric

Point 49 - fabric

Point 56 - fabric

Point 74 - fabric

Point 79 - fabric

Point 86 - fabric

Point 98 - fabric

Cura 60111 - fabric

Cura 60112 - fabric

Cura 60327 - fabric

Cura 61168 - fabric

Cura 61233 - fabric

Cura 62082 - fabric

Cura 63012 - fabric

Cura 64240 - fabric

Cura 66167 - fabric

Cura 66169 - fabric

Cura 67084 - fabric

Cura 68182 - fabric

Cura 68186 - fabric

Cura 68264 - fabric

Crown Velvet 01 - fabric

Crown Velvet 03 - fabric

Crown Velvet 09 - fabric

Crown Velvet 10 - fabric

Crown Velvet 12 - fabric

Crown Velvet 14 - fabric

Crown Velvet 21 - fabric

Crown Velvet 31 - fabric

Crown Velvet 37 - fabric

Crown Velvet 46 - fabric

Crown Velvet 48 - fabric

Crown Velvet 54 - fabric

Crown Velvet 55 - fabric

Crown Velvet 56 - fabric

Crown Velvet 101 - fabric

Crown Velvet 120 - fabric

Crown Velvet 129 - fabric

Crown Velvet 136 - fabric

Crown Velvet 141 - fabric

Crown Velvet 142 - fabric

Nordic 104 - fabric

Nordic 111 - fabric

Nordic 113 - fabric

Nordic 115 - fabric

Nordic 116 - fabric

Nordic 117 - fabric

Nordic 121 - fabric

Nordic 125 - fabric

Nordic 128 - fabric

Nordic 129 - fabric

Nordic 130 - fabric

Nordic 131 - fabric

Nordic 132 - fabric

Nordic 901 - fabric
One Moment 08 - fabric

One Moment 09 - fabric

One Moment 19 - fabric

One Moment 38 - fabric

One Moment 48 - fabric

One Moment 54 - fabric

One Moment 59 - fabric

One Moment 70 - fabric

One Moment 74 - fabric
One Moment 78 - fabric

One Moment 80 - fabric

One Moment 85 - fabric

One Moment 99 - fabric
Venice 07 - fabric

Venice 15 - fabric

Venice 69 - fabric

Venice 156 - fabric

Venice 214 - fabric
Venice 250 - fabric

Venice 324 - fabric

Venice 349 - fabric

Tokyo 002 - fabric

Tokyo 003 - fabric

Tokyo 004 - fabric

Tokyo 101 - fabric

Tokyo 112 - fabric

Tokyo 114 - fabric

Tokyo 115 - fabric

Tokyo 118 - fabric

Tokyo 120 - fabric

Tokyo 122 - fabric

Tokyo 160 - fabric

Tokyo 184 - fabric

Tokyo 207 - fabric

Tokyo 258 - fabric

Legacy 02 Ocean - fabric

Legacy 03 River - fabric

Legacy 04 Meadow - fabric

Legacy 06 Confetti - fabric

Bolt Sand 09 - fabric

Bolt Trufle 10 - fabric

Bolt Chestnut 11 - fabric

Bolt Aluminium 20 - fabric

Bolt Jet 22 - fabric

Bolt Hydro 24 - fabric

Bolt Duckegg 26 - fabric

Bolt Pine 31 - fabric

Bolt Lemongrass 34 - fabric
Bolt Canyon 37 - fabric

Bolt Poppy 39 - fabric
Bolt Blossom 42 - fabric

Wool 91390110 - woolen fabric

Wool 2288 - woolen fabric

Wool 2279 - woolen fabric

Wool 2277 - woolen fabric

Wool 95 - woolen fabric

Wool 2014 - woolen fabric

Wool 1037 - woolen fabric

Wool 2151 - woolen fabric

Wool 1026 - woolen fabric

Wool 1000 - woolen fabric

Wool 1001 - woolen fabric
Wool 1003 - woolen fabric

Wool 1040 - woolen fabric

Wool 2153 - woolen fabric
Step Melange 67072 - fabric

Step Melange 60004 - fabric

Step Melange 61149 - fabric

Step Melange 60092 - fabric

Focus 60008 - fabric

Focus 60200 - fabric

Focus 61036 - fabric

Focus 61037 - fabric
Focus 61040 - fabric

Focus 61244 - fabric

Focus 64043 - fabric

Focus 66022 - fabric

Focus 68047 - fabric

Focus 68049 - fabric

Madras K99 - genuine leather
Madras G22 - genuine leather

Madras B29 - genuine leather

Madras K21 - genuine leather

Madras K23 - genuine leather

Madras K70 - genuine leather

Tornado 1000 - genuine leather

Tornado 1014 - genuine leather

Tornado 1013 - genuine leather

Tornado 1017 - genuine leather

Tornado 1020 - genuine leather

Tornado 1040 - genuine leather

Tornado 1022 - genuine leather
Design: Pawlak & Stawarski
Pop as a collection refers to a popular type of music. It is friendly, uncomplicated in form and very universal. Comfortable soft chairs and armchairs from this collection will give the interior warmth and a sense of informal atmosphere. Pop easily changes character depending on the color configuration. The large upholstery surface, depending on the choice of fabric, will make it the main hero of the room or gently blend in with the context of space. The Pop collection is available in two versions – with or without armrests.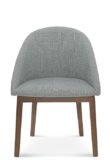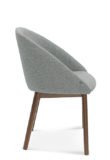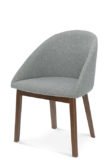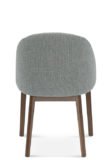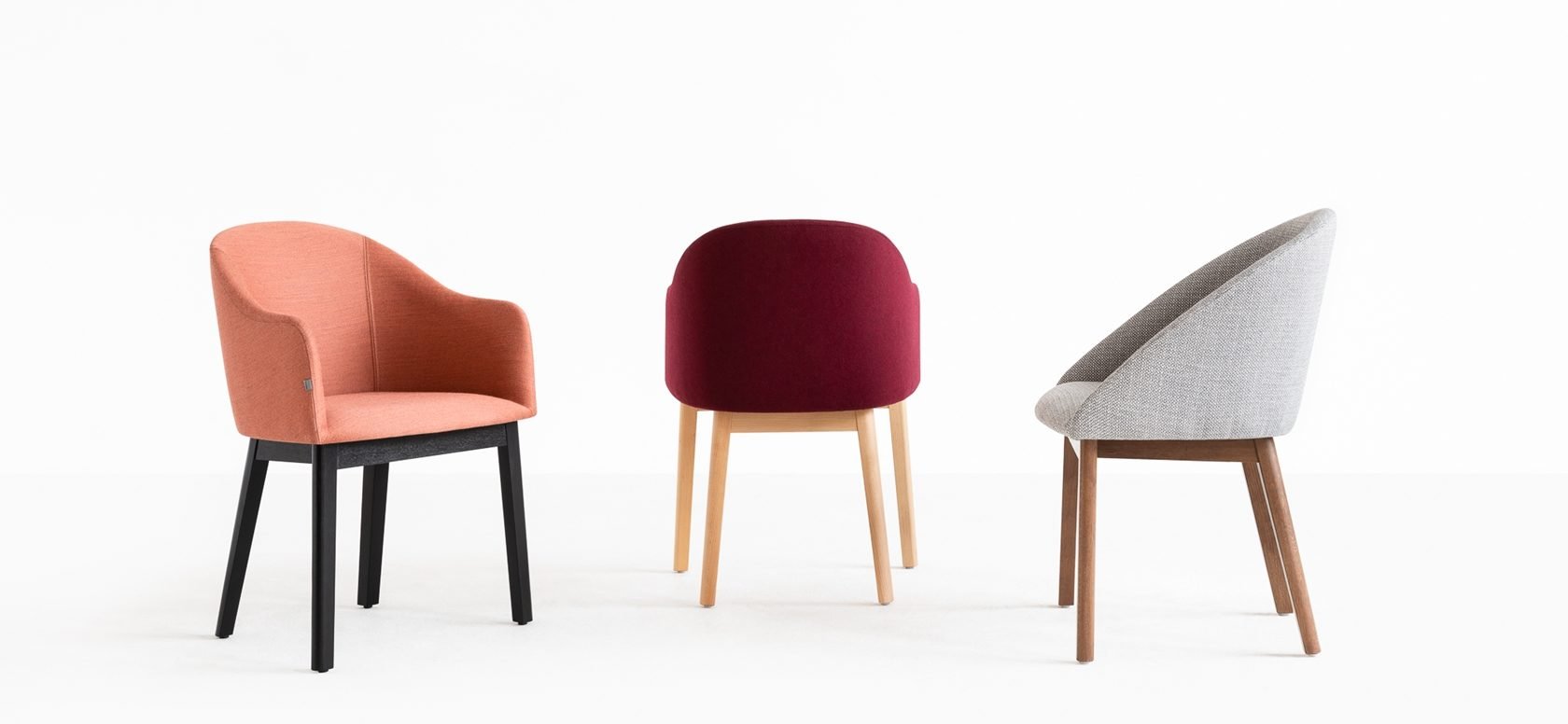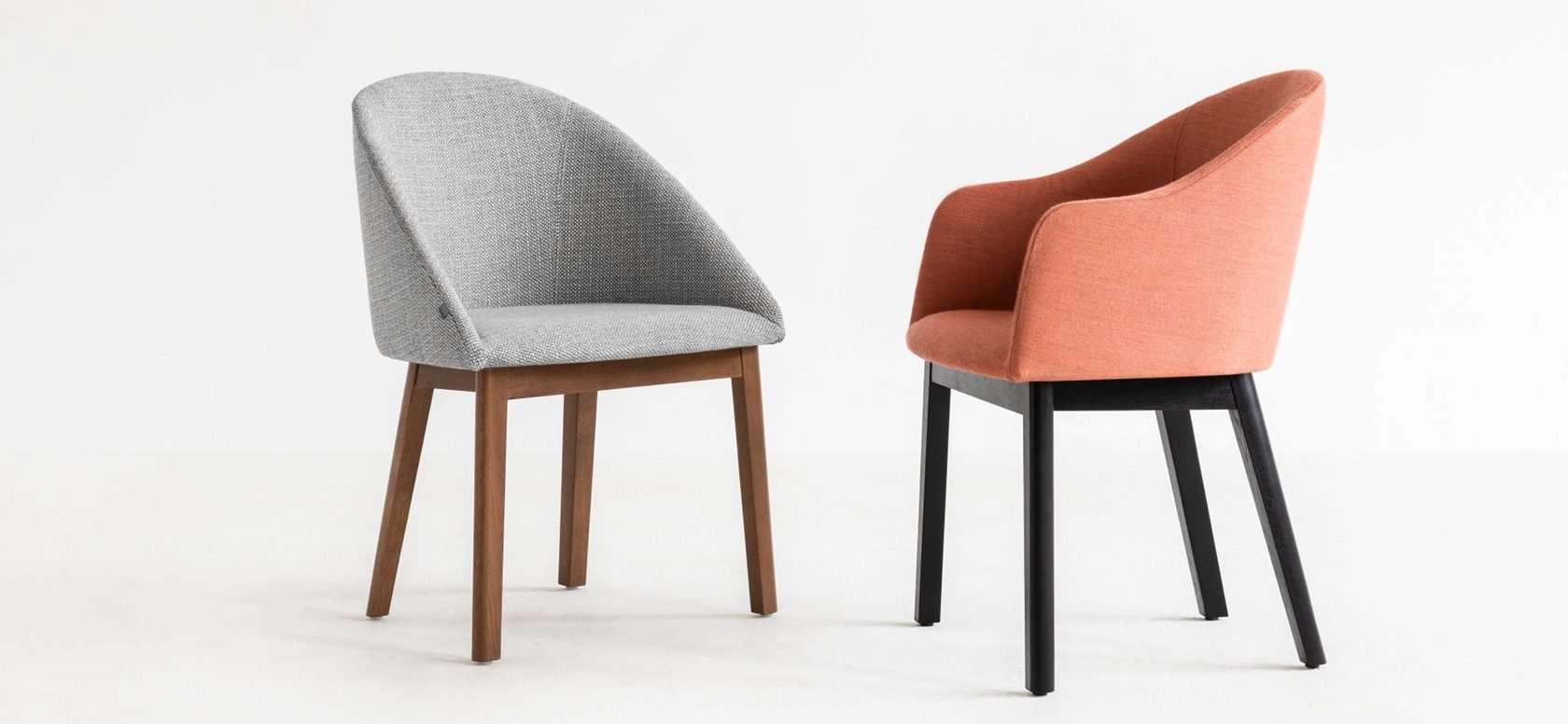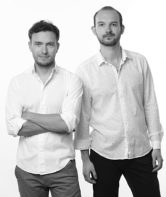 Bartłomiej Pawlak & Łukasz Stawarski
Both graduated from the University of the Arts in Poznań with a degree in Industrial Design and have stayed on as academic staff at their alma mater. Owners at the PAWLAK & STAWARSKI studio, they produce projects in industrial design, furniture design, graphics, interiors and exhibitions. In their work, they combine different personalities and individual experiences. Their projects are set apart by the originality of their solutions and great attention to function and detail. They have received numerous awards for their work both in Poland, and abroad.
More about the designer
Wood finishes | Standard beech

Natural beech 01
Honey 02

Rustical 06

Milky walnut 07

Walnut 04

Cognac 05
Dark walnut 08

Wenge 09
Black stain 10
Wood finishes | Premium beech

White washed 03

Antique white 29

Antique oil 15

Yellow stain 13
Red stain 14

Green stain 12

Grey stain 11

White 16

Light green 21

Dark green 22

Burgundy 23

Light blue 19

Dark blue 20

Light grey 17

Dark grey 18

Black 24
Wood finishes | Standard oak

Bleached oak 26

Natural oak 25

Milky oak 27

Wenge oak 160

Walnut oak 166
Wood finishes | Premium oak

Antique oil oak 37

White oak 35

Black oak 36
Upholstery | CAT A

Lars 27 - fabric

Lars 59 - fabric

Lars 73 - fabric

Lars 75 - fabric

Lars 77 - fabric

Lars 81 - fabric

Lars 88 - fabric

Lars 89 - fabric

Lars 92 - fabric

Lars 98 - fabric

Lars 99 - fabric

Lars 100 - fabric

Vintage 200 Natural - eco-leather

Vintage 215 Cognac - eco-leather

Vintage 805 Dark Brown - eco-leather

Vintage 812 Dark Chocolate - eco-leather

Vintage 505 Middle Blue - eco-leather

Vintage 100 Black - eco-leather

Dolaro 3 - eco-leather

Dolaro 9 - eco-leather

Dolaro 13 - eco-leather

Dolaro 10 - eco-leather

Dolaro 17 - eco-leather

Dolaro 18 - eco-leather

Dolaro 19 - eco-leather

Dolaro 12 - eco-leather

Dolaro 14 - eco-leather

Dolaro 15 - eco-leather

Point 13 - fabric

Point 38 - fabric

Point 39 - fabric

Point 48 - fabric

Point 49 - fabric

Point 56 - fabric

Point 74 - fabric

Point 79 - fabric

Point 86 - fabric

Point 98 - fabric
Upholstery | CAT B

Cura 60111 - fabric

Cura 60112 - fabric
Cura 60327 - fabric

Cura 61168 - fabric

Cura 61233 - fabric

Cura 62082 - fabric

Cura 63012 - fabric

Cura 64240 - fabric

Cura 66167 - fabric

Cura 66169 - fabric

Cura 67084 - fabric

Cura 68182 - fabric

Cura 68186 - fabric

Cura 68264 - fabric

Crown Velvet 01 - fabric

Crown Velvet 03 - fabric

Crown Velvet 09 - fabric

Crown Velvet 10 - fabric

Crown Velvet 12 - fabric

Crown Velvet 14 - fabric

Crown Velvet 21 - fabric

Crown Velvet 31 - fabric

Crown Velvet 37 - fabric

Crown Velvet 46 - fabric

Crown Velvet 48 - fabric

Crown Velvet 54 - fabric

Crown Velvet 55 - fabric

Crown Velvet 56 - fabric

Crown Velvet 101 - fabric

Crown Velvet 120 - fabric

Crown Velvet 129 - fabric

Crown Velvet 136 - fabric

Crown Velvet 141 - fabric

Crown Velvet 142 - fabric

Nordic 104 - fabric

Nordic 111 - fabric

Nordic 113 - fabric

Nordic 115 - fabric

Nordic 116 - fabric

Nordic 117 - fabric

Nordic 121 - fabric

Nordic 125 - fabric

Nordic 128 - fabric

Nordic 129 - fabric

Nordic 130 - fabric

Nordic 131 - fabric

Nordic 132 - fabric
Nordic 901 - fabric
One Moment 08 - fabric
One Moment 09 - fabric
One Moment 19 - fabric
One Moment 38 - fabric
One Moment 48 - fabric
One Moment 54 - fabric
One Moment 59 - fabric
One Moment 70 - fabric
One Moment 74 - fabric
One Moment 78 - fabric
One Moment 80 - fabric
One Moment 85 - fabric
One Moment 99 - fabric
Venice 07 - fabric

Venice 15 - fabric

Venice 69 - fabric

Venice 156 - fabric

Venice 214 - fabric

Venice 250 - fabric

Venice 324 - fabric

Venice 349 - fabric

Tokyo 002 - fabric

Tokyo 003 - fabric

Tokyo 004 - fabric

Tokyo 101 - fabric

Tokyo 112 - fabric

Tokyo 114 - fabric

Tokyo 115 - fabric

Tokyo 118 - fabric

Tokyo 120 - fabric

Tokyo 122 - fabric

Tokyo 160 - fabric

Tokyo 184 - fabric

Tokyo 207 - fabric

Tokyo 258 - fabric

Legacy 02 Ocean - fabric

Legacy 03 River - fabric

Legacy 04 Meadow - fabric

Legacy 06 Confetti - fabric

Bolt Sand 09 - fabric

Bolt Trufle 10 - fabric

Bolt Chestnut 11 - fabric

Bolt Aluminium 20 - fabric

Bolt Jet 22 - fabric

Bolt Hydro 24 - fabric

Bolt Duckegg 26 - fabric

Bolt Pine 31 - fabric

Bolt Lemongrass 34 - fabric

Bolt Canyon 37 - fabric

Bolt Poppy 39 - fabric

Bolt Blossom 42 - fabric
Upholstery | CAT C

Wool 91390110 - woolen fabric

Wool 2288 - woolen fabric
Wool 2279 - woolen fabric

Wool 2277 - woolen fabric

Wool 95 - woolen fabric

Wool 2014 - woolen fabric
Wool 1037 - woolen fabric

Wool 2151 - woolen fabric

Wool 1026 - woolen fabric

Wool 1000 - woolen fabric

Wool 1001 - woolen fabric

Wool 1003 - woolen fabric

Wool 1040 - woolen fabric

Wool 2153 - woolen fabric

Step Melange 67072 - fabric

Step Melange 60004 - fabric

Step Melange 61149 - fabric

Step Melange 60092 - fabric
Upholstery | CAT D

Focus 60008 - fabric

Focus 60200 - fabric

Focus 61036 - fabric

Focus 61037 - fabric

Focus 61040 - fabric

Focus 61244 - fabric

Focus 64043 - fabric

Focus 66022 - fabric

Focus 68047 - fabric

Focus 68049 - fabric
Upholstery | CAT L1

Madras K99 - genuine leather

Madras G22 - genuine leather

Madras B29 - genuine leather

Madras K21 - genuine leather

Madras K23 - genuine leather

Madras K70 - genuine leather
Upholstery | CAT L2

Tornado 1000 - genuine leather

Tornado 1014 - genuine leather

Tornado 1013 - genuine leather

Tornado 1017 - genuine leather

Tornado 1020 - genuine leather
Tornado 1040 - genuine leather
Tornado 1022 - genuine leather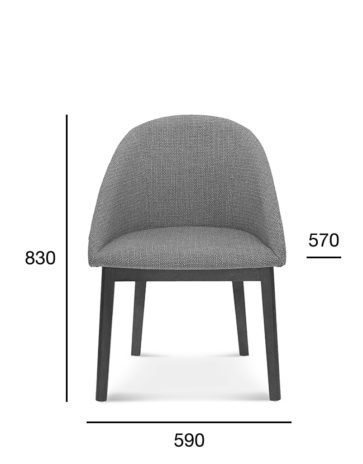 | Position | Value |
| --- | --- |
| Wood (type) | beech |
| Total height (mm) | 830 |
| Total depth (mm) | 570 |
| Total width (mm) | 590 |
| Seat height (mm) | 485 |
| Net weight (kg) | 8,2 |
| Fabric consumption (running meters/pcs) for the width of fabric 1,4 m | 1,85/1 |
| Leather consumption (m² / pcs) | 3,34/1 |
| Quantity per carton box | 1 |
| Dimensions of the carton box | 620x595x960 |
| Volume of the carton box (m³) | 0,354 |