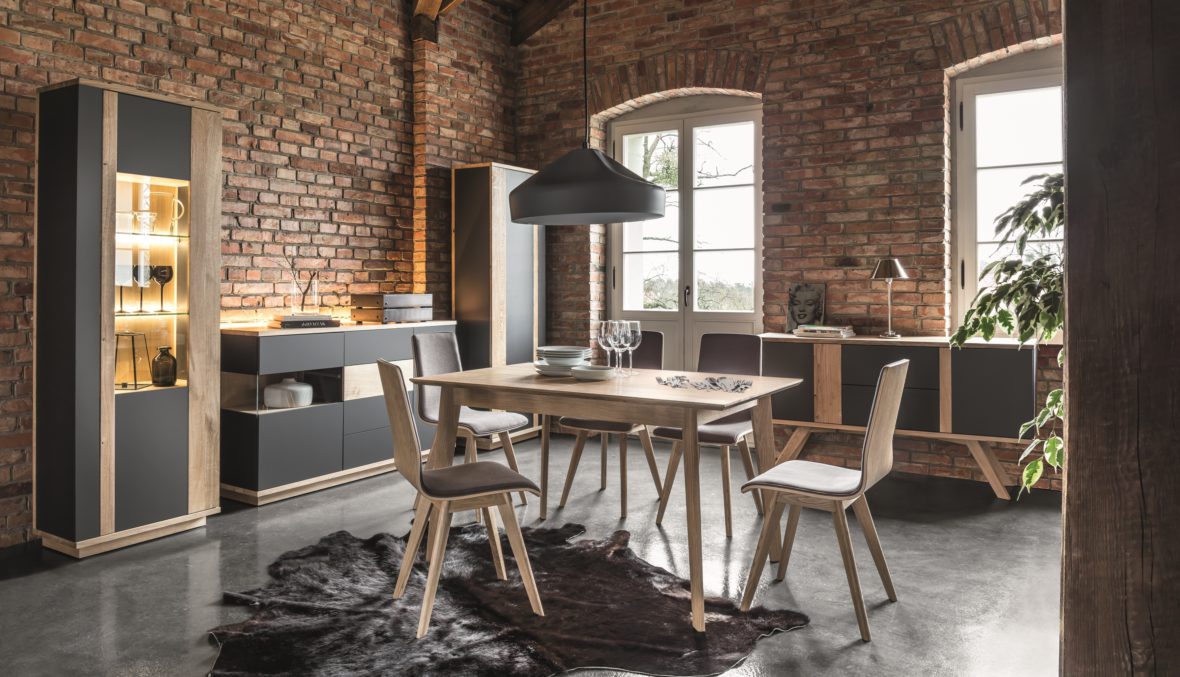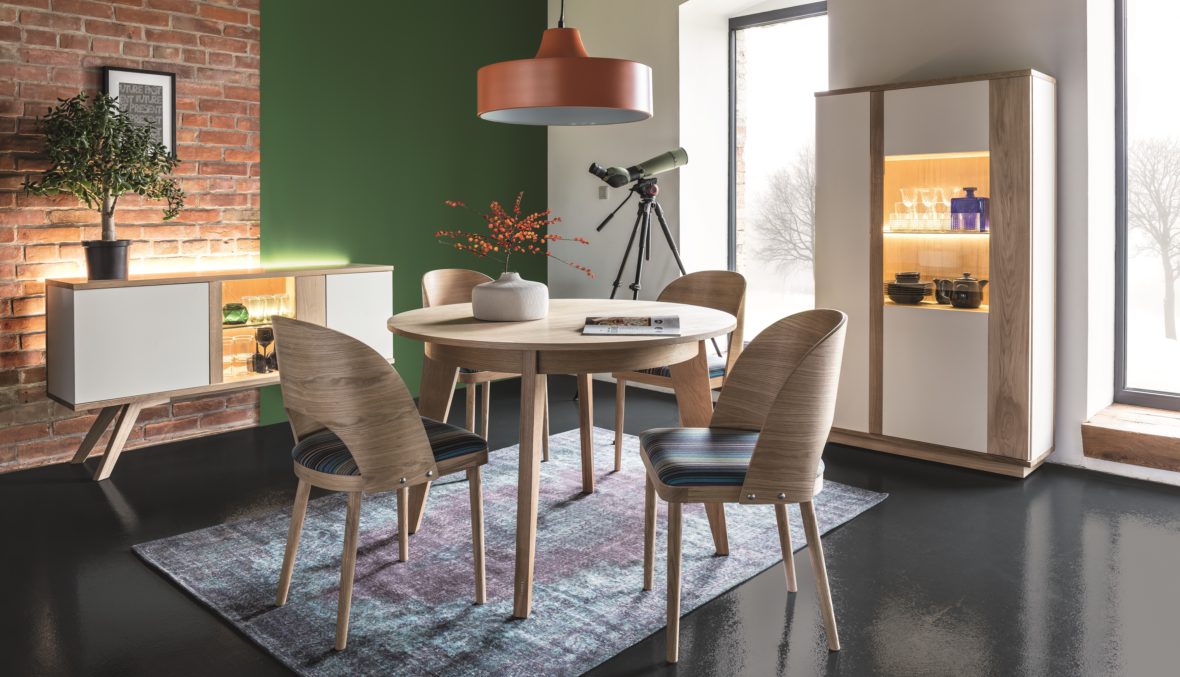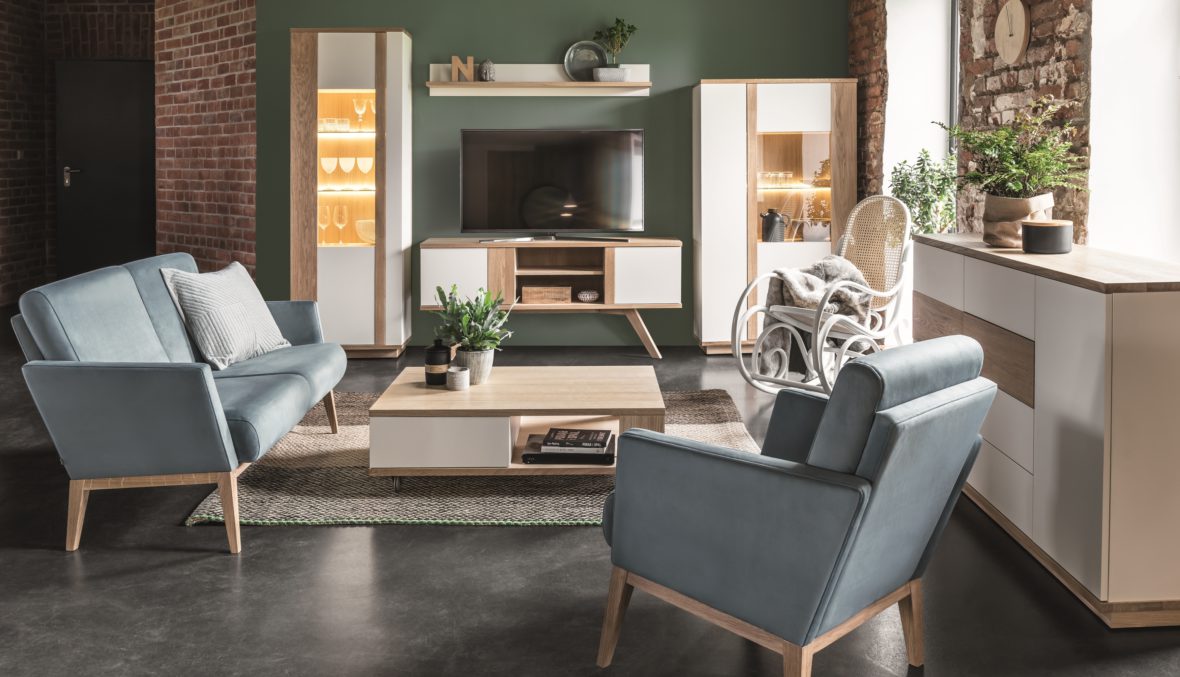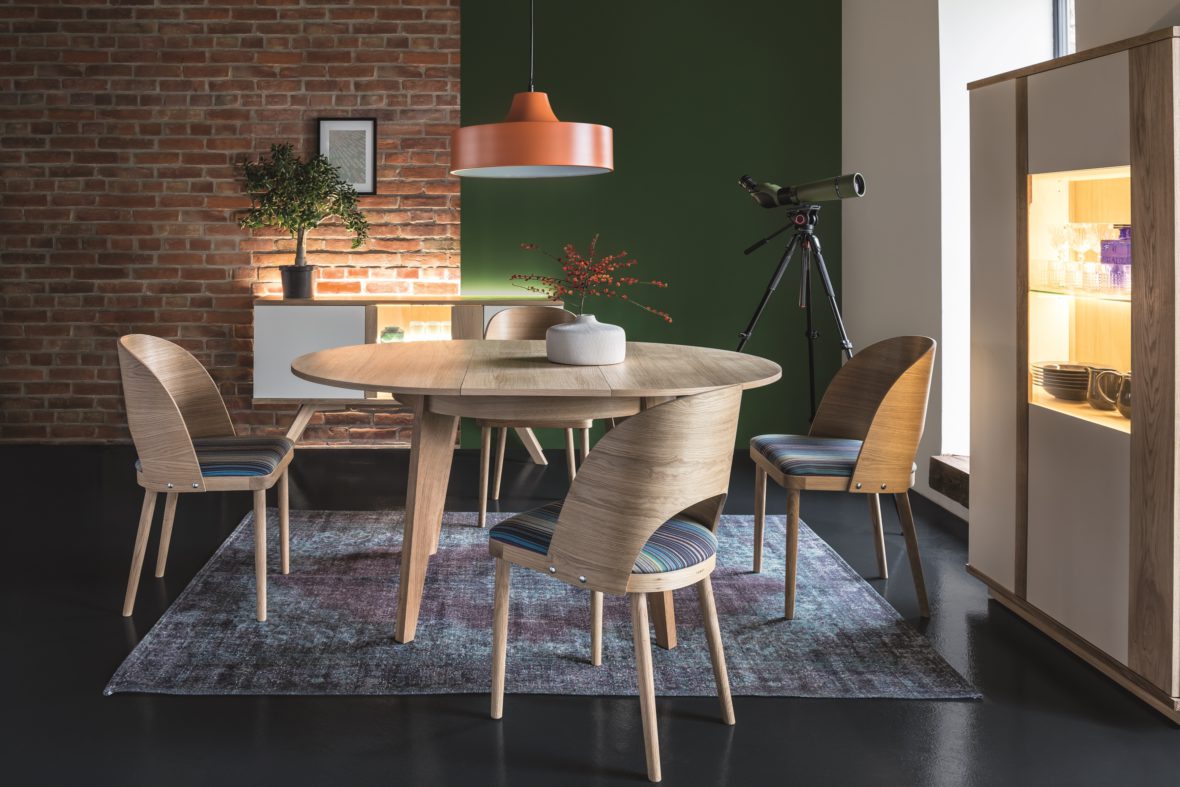 The new collection of furniture is dedicated to the living room and dining room.
Senales is a collection of furniture with solid wood elements. It is modern because it was designed in a modern way. Elegant exterior and well-thought interior. Discreet in its white and minimalistic in its charcoal shades. Natural, adiant and... nice to the touch. The new furniture collection is designed for living room and dining room. Collection design: STROOG Andrzej Lęckoś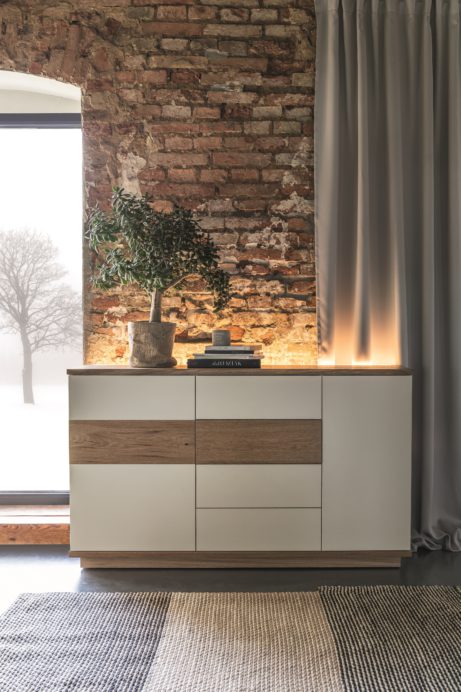 Commode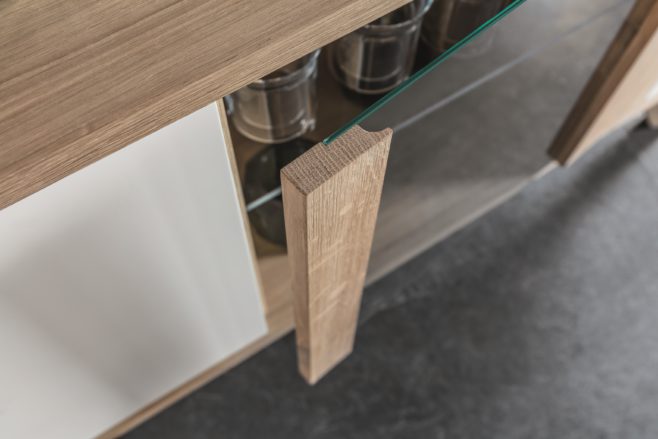 Commode
Chest of drawers 01 standing on slanted oak legs is equipped with two types of lighting. External lighting of the top panel creates a warm and cosy atmosphere, while the internal lighting of glass shelves perfectly exposes objects placed in the chest of drawers. Eye-catching installation of glass in doors of the chest of drawers is an example of utmost care about all details in the Senales collection.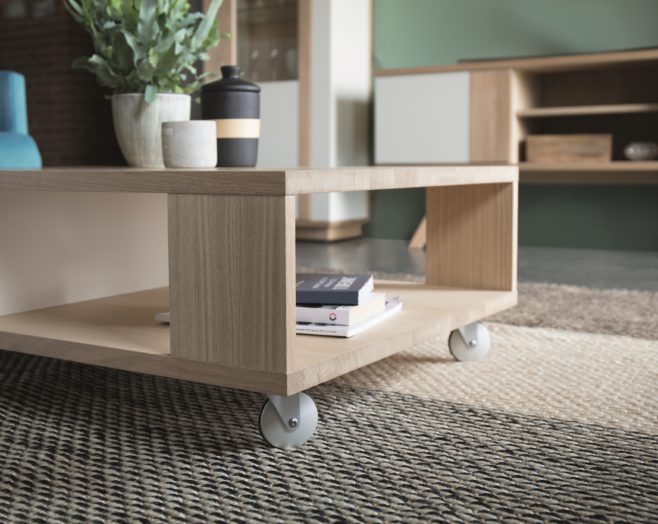 Coffee table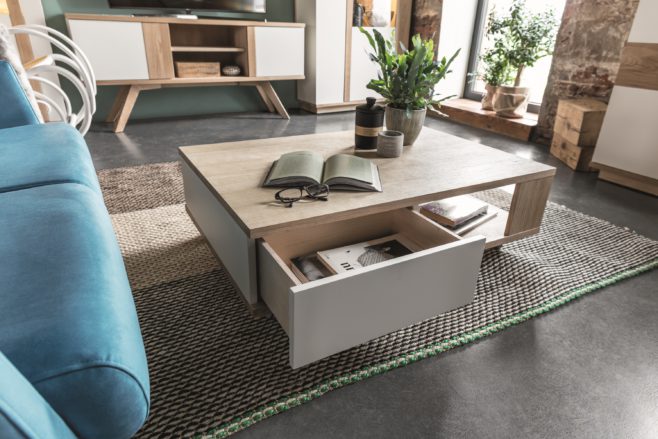 The beauty of natural wood
Equipping a coffee table with designer steel wheels, which are powder painted in aluminium colour, transformed it from an ordinary table to a mobile one. The wheels are covered with a rubber ring, thus preventing fl oor scratches. The two spacious drawers will hold things which we always want at hand.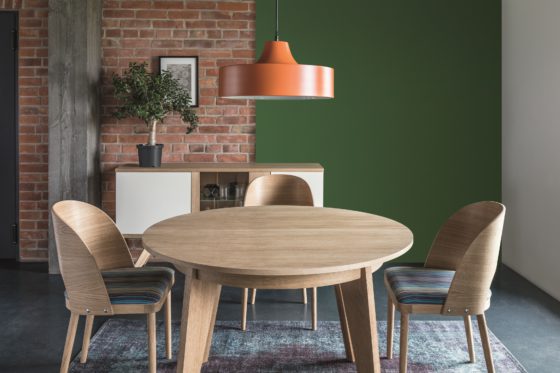 Table senales ST-1703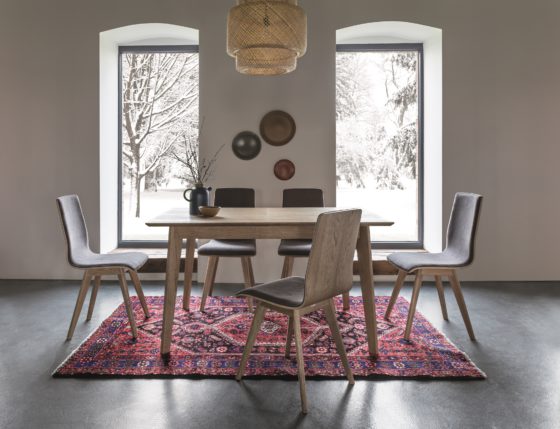 Table senales ST-1703
The Senales collection offers two types of folding tables: round and square. The stable, elegant round table is equipped with a convenient and practical folding system with the range between 1150 mm to 1550 mm. A rotary and tilting insert is hidden under the table top. Slanted oak legs are in the same style as slanted legs used in the TV cabinet and two chests of drawers: 01 and 05. The classic, square, foldable table from the Senales collection will fit perfectly in an elegant lounge or dining room. The table is fi tted with a comfortable and practical folding system ranging between 1400 mm and 1900mm. A 500 mm insert is hidden under the table top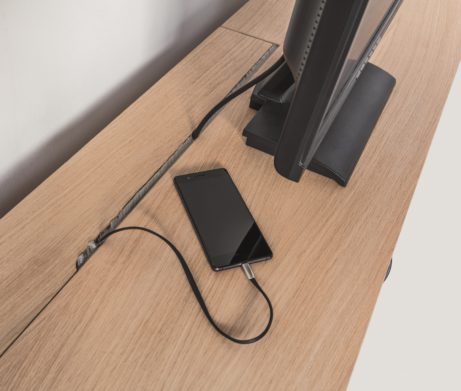 RTV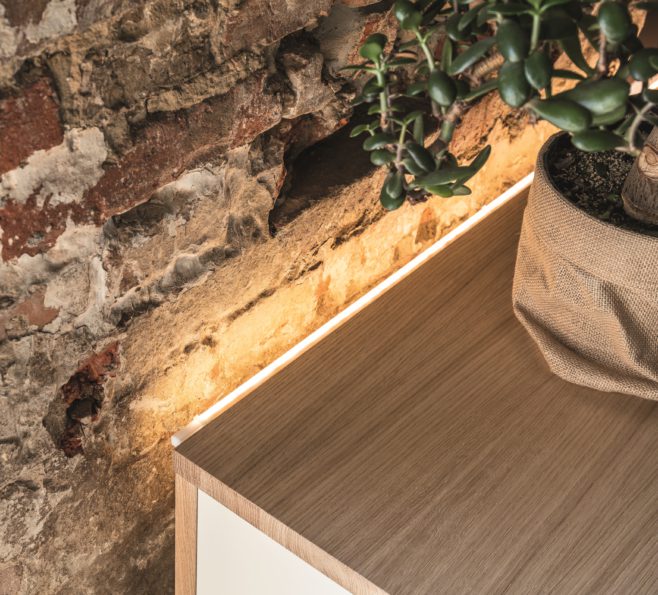 External lighting of the dresser
Almost in every home a TV cabinet stands in the central spot of the living room and functions as a family entertainment centre. The TV cabinet from Senales collection is equipped with oak slanting legs which enhances impression of lightness of the entire block. A special, discreet cable grommet is a crucial feature of the cabinet. It allows to connect all equipment located inside the cabinet to power supply. The cabinet also has a special slot in the top which allows connection to equipment standing on the cabinet, like e.g. TV set or audio equipment
| Files to download | Format | Size | |
| --- | --- | --- | --- |
| Katalog_Senales | .pdf | | Download |