Skip to content
The dressing table from Tivoli collection has two external shelves and two convenient drawers with numerous compartments. Frame of the compartments is made of plywood, and bottom of drawers is lined with a tasteful imitation leather. The dressing table is available in two versions: with or without a mirror. The dressing  table is furnished with an additional element which is a flexible lamp allowing to direct the beam of light exactly where it is most desired.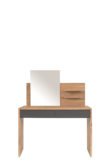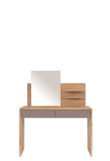 Brak wariantów dla danego produktu
Andrzej Lęckoś
Born in 1972 in Jasło, he majored in Artistic Furniture-Making at the Antoni Kenar Arts Secondary in Zakopane and went on to study Interior Architecture at the Wrocław Academy of Art and Design. In 1998, he was producing replicas of vintage furniture.
From 2000 onwards, he has been focussing on designing furniture for mass production. He collaborated with numerous Polish factories. His products have been recognised with awards in multiple categories. Since 2010, he has been designing furniture in his own "STROOG Design" practice.
Has been cooperating with Bentwood Furniture Factory FAMEG since 2013.
More about the designer
Wood finishes | Solid oak wood elements
Brushed and oiled oak 1395
Wood finishes | Matt fronts painted colour

Beige glaze 4345

Charcoal glaze 4346 - fabric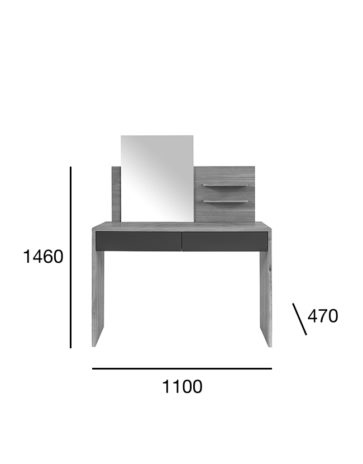 | Position | Value |
| --- | --- |
| Wood (type) | oak |
| Total width (mm) | 1100 |
| Total height (mm) | 1460 |
| Total depth (mm) | 470 |
| Number of packages | 2 |
| Dimensions of the carton box | 1120x800x440, 1100x400x20 |
| Volume of the carton box (m³) | 0,403 |
| Gross weight (kg) | 30 |