Skip to content
The Tivoli collection offers beds in three widths: 140, 160 and 180 cm. Both the bedside tables and the upholstered backrest create with the bed an integrated unity. Flexible upper lamps and backrest lighting with colour change function are important complementary elements. All beds have bedding containers and lift up bed frame with sprung slats under the mattress. Use of fabrics on the backrest and frame allows for unrestricted individualisation.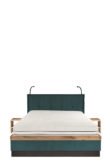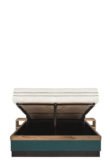 Brak wariantów dla danego produktu
Andrzej Lęckoś
Born in 1972 in Jasło, he majored in Artistic Furniture-Making at the Antoni Kenar Arts Secondary in Zakopane and went on to study Interior Architecture at the Wrocław Academy of Art and Design. In 1998, he was producing replicas of vintage furniture.
From 2000 onwards, he has been focussing on designing furniture for mass production. He collaborated with numerous Polish factories. His products have been recognised with awards in multiple categories. Since 2010, he has been designing furniture in his own "STROOG Design" practice.
Has been cooperating with Bentwood Furniture Factory FAMEG since 2013.
More about the designer
Wood finishes | Solid oak wood elements
Brushed and oiled oak 1395
Wood finishes | Matt fronts painted colour

Beige glaze 4345

Charcoal glaze 4346 - fabric
Types of bed upholstery | panels at the very bottom

Tokyo T2 - fabric

Wool 1003 - woolen fabric
Types of bed upholstery | headrest and bed frame

Tokyo T188 - fabric

Tokyo T9 - fabric

Tokyo T3 - fabric

Tokyo T160 - fabric

Tokyo T119 - fabric
Tokyo T4 - fabric

Tokyo T207 - fabric

Tokyo T120 - fabric

Tokyo T118 - fabric

Tokyo T101 - fabric

Tokyo T115 - fabric

Tokyo T2 - fabric

Wool 91390110 - woolen fabric

Wool 2288 - woolen fabric

Wool 2279 - woolen fabric

Wool 2277 - woolen fabric

Wool 95 - woolen fabric

Wool 2014 - woolen fabric

Wool 1037 - woolen fabric

Wool 2151 - woolen fabric

Wool 1026 - woolen fabric

Wool 1000 - woolen fabric

Wool 1001 - woolen fabric

Wool 1003 - woolen fabric

Wool 1040 - woolen fabric

Wool 2153 - woolen fabric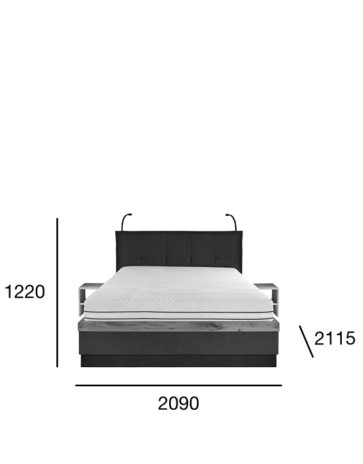 | Position | Value |
| --- | --- |
| Wood (type) | oak |
| Total width (mm) | 2090 |
| Total height (mm) | 1220 |
| Total depth (mm) | 2115 |
| Number of packages | 5 |
| Dimensions of the carton box | 2100x500x30, 1600x1160x80, 2pcs-2020x770x25, 2020x1370x34 |
| Volume of the carton box (m³) | 0,352 |
| Gross weight (kg) | 164 |